Belt Driven Centrifugal Fan (Forward Curved Blades, Single Inlet), SYDS Series
The SYDS series of centrifugal air conditioning fans was developed with advanced technologies. They are licensed to bear the AMCA Seal for air performance, sound, and FEG. This series of belt driven centrifugal fans are available of 12 models, in volume flow from 1000m³/h to 50,000m³/h, total pressure ranges from 200Pa to 1,500Pa. Some of the features and characteristics of these fans are: forward blades, a wide range of applications, high efficiency, low noise, and low power consumption. These fans are ideal for use in central air-conditioning systems, in purifiers. They are also suitable for use in a variety of other ventilation applications.
Brochure download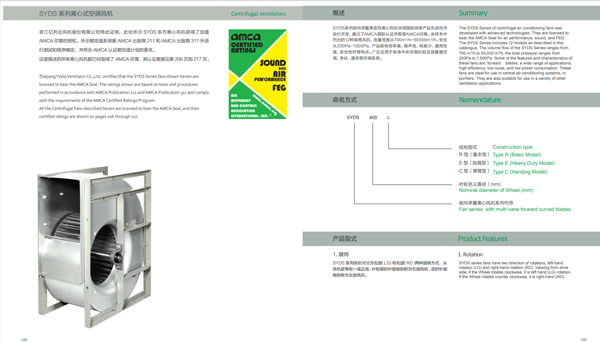 PDF
---
Yilida designs, manufactures and supplies a complete range of energy-efficient fans and blowers for general ventilation, air conditioning, temperature control and industrial applications. We are able to meet your precise requirements for ventilation systems.