Production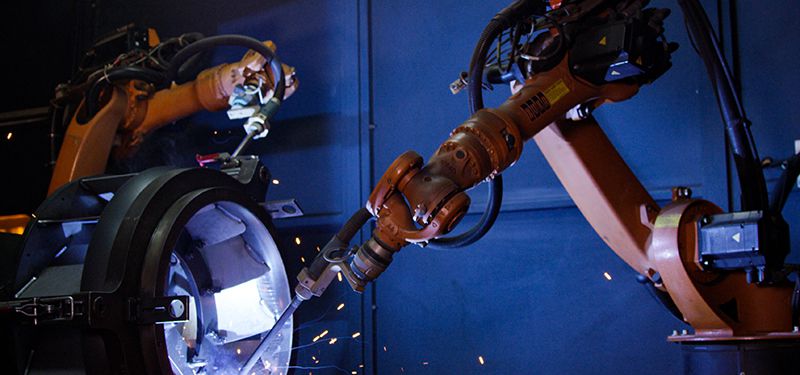 As a global industrial fan manufacturer, Yilida owns 8 production bases in different regions domestically and globally, e.g. Malaysia. We continually invest in technological innovation to build new intelligent manufacturing facilitates with the integration of industrialization and informatization.
In 2015, Yilida's new manufacturing plant at Taizhou economic development zone was completed and put into operation. Covering an area of 152,700 square meters, our plant comes equipped with German TRUMPF 3000 CNC machining centers, laser cutting machines, robotic welding systems and other advanced manufacturing equipment to ensure our capability to manufacture industrial fans and ventilation systems with high production efficiency.
Excellent Manufacturing Flexibility
Equipped with advanced manufacturing facilities of smart automatic laser cutting equipment, automatic high-speed punch presses, automatic robotic welding systems, automatic coating lines, automated vertical warehouse and Internet of Things (IoT) information management system, Yilida is nimble enough to produce custom fans by innovating to serve our customers' specific needs.
We are aware that our customers often need custom fans with fast delivery, and constantly strive to improve our manufacturing capabilities, optimize production processes, invest and develop new automated manufacturing equipment and facilities, thereby achieving high efficiency and just-in-time manufacturing process.

EC Motor Digital Production Control
By taking advantage of our subsidiary -- Tiecheng's production and inspection capability in on-board charger industry, Yilida is capable of developing and manufacturing fan control panel. We have a several lines of manufacturing equipment such as SMT lines and DIP lines to accomplish automatic control panel production from PCB printing, SPI inspection, electronic components pick & place and insertion, wave soldering, automated optical inspection (AOI), anti-corrosion coating, functional circuit test (FCT) to packaging.
During fan motor manufacturing process, Yilida carries out a digital production process through each critical step of winding, magnet bonding, magnetizing, motor assembling and testing, aiming at providing high product consistency and performance reliability while ensuring desired production capacity.
Yilida has introduced intelligent warehousing system which adopts FIFO (First in, First out) material management method and smart lighting system to improve the efficiency of warehouse picking, greatly reducing labor intensity and cost.
With the integration of MES and EPR systems, Yilida's MES system can easily collect and send data to ERP platform and different individual control systems. The barcode scanning system helps in guaranteeing the accuracy of data containing material, production process, staff and manufacturing equipment, and achieving digital process control with functions of data control, logging, tracking and abnormal status alarming.
Yilida is a listed company that has been delivering custom fan solutions to global HVAC system market for nearly 30 years. Our longevity in the ventilation and air conditioning industry is based on the top quality of our ventilation fans that have been approved by AMCA, and global service network which can quickly response to worldwide customers who are looking for commercial fans or industrial blowers. Yilida has 8 fan production bases to manufacture a broad range of centrifugal fans and axial fans. Whether you are looking for general ventilation fans, smoke extract fans, inline duct fans, roof mounted fans or industrial process fans, Yilida can produce the air moving products that are precisely oriented to your applications of ventilation, smoke extraction, air conditioning, and more.